After all that time locked down, we know you've been making the most of your outside spaces whenever you can. So, why shouldn't they look and feel as comfortable as your inside living space? Stretch out every drop of warm weather and brighten your garden with an outdoor runner rug.
Outdoor runner rugs are ideal for terraces, patios, balconies and lawns. Wherever you like to get comfy and while away a warm day, there's a rug to complete your favourite space. Choose from the earthy shades of the Mediterranean, the patterns of Morocco or keep things cool with a simple, timeless Scandi vibe.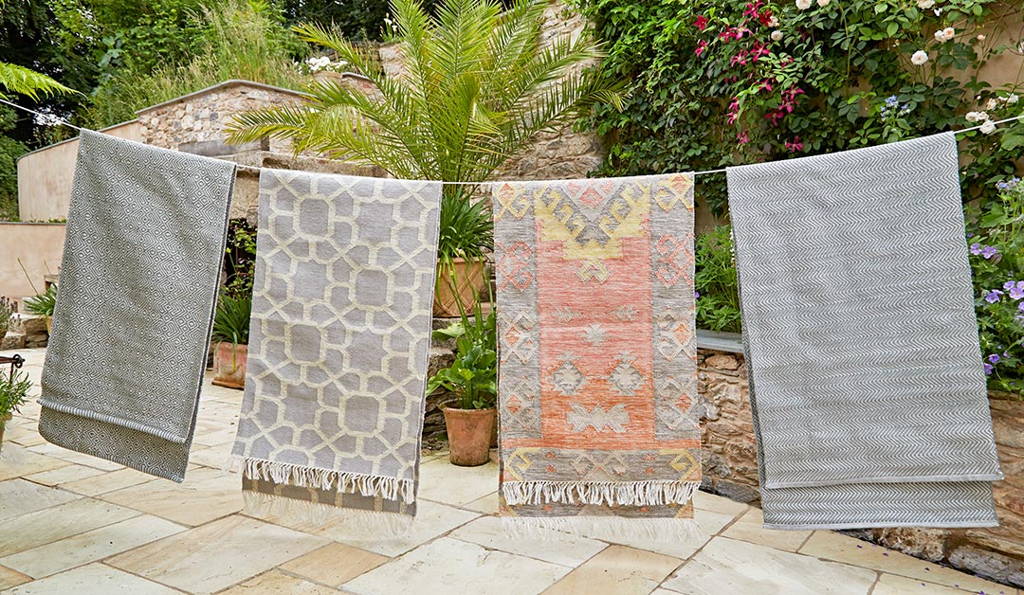 Our
outdoor runner rugs
feel just as soft as wool, yet they're super hard wearing. You can even pop your rug in the washing machine to freshen it up - if you can prise it from under your family's feet!
Finding your favourite
The Medina Tangier Runner Rug has an elegant monochrome design that blends in with any outside space. Add a touch of luxury to your balcony or position it on your decking for a stylish summer. With a simple pattern inspired by traditional Moroccan textiles, this seriously soft rug will make you feel a world away from the hustle and bustle. This gorgeous outdoor runner may be made from recycled plastic bottles, but it feels so soft underfoot you'll feel right at home - even when you're outside.
If your plan is to spend as much of this summer as you can outside, why not bring the comfort of your home to your outdoor space? There's no need to worry if there's a shower, as our runner rugs are water-resistant and washable. Choose from a range of sizes to ensure your rug fits perfectly into your favourite outside space.
We've been eagerly waiting to welcome this beautiful runner to our collection, and wow was it worth the wait! Everyone loves a stripe, and this dove grey runner works anywhere in the house. It's a popular choice for areas like upstairs hallways, corridors and even the bedroom floor. It may be the new kid on the block, but we have a feeling the simple, yet soothing look of this runner will make it an instant winner.
Thanks to its understated design, this rug easily blends in with any existing décor. Add a little warmth to a shady corridor or use it in your kitchen if it tends to be the hub of the home. As with all our runners, this rug is great if you have people in the house with allergies. Resistant to pesky moths and dust mites, it's also easy to clean and machine washable.
If your patio or terrace tends to be your home's main hub during the warmer months, a long runner rug can be the finishing touch. The Navy Provence Runner Rug looks gorgeous under a sunny sky, and what a way to impress your garden guests.
Kick your flip flops off and enjoy the wool-like feel of this beautiful rug while you soak up the fresh air. The Scandi pattern looks even more striking for the nautical blue tones, making this a bright runner rug that will provide a focal point in any outside area.
Not just a pretty face, this rug is hard-wearing and easy to keep clean. It may be carefully created to feel just like wool, but it's water-resistant. So, pop it on your terrace and start planning an al fresco gathering to show it off to your friends.
Every garden has that one space that could do with an extra-long outdoor runner rug. Whether it's your sunny terrace or a large patio, the Andalucía Paloma runner rug adds instant charm to any spot. Faded pastel colours hint at a Spanish influence and give this rug a warming feel all year round. The quirky design will revive any unimaginative area of your garden, and the marled look in blues and teals combine with beautiful coral and yellows.
You may not be heading abroad this year, but this rug will bring that laidback holiday feel to your very own outside space. With a wool-like softness, it's a treat for feet too. It's hard to believe this boho-looking beauty is made entirely from recycled plastic bottles.
Sometimes, there's a lot to be said for keeping it simple. The Maxime blue runner rug makes a chic statement with its crisp border stripes inspired by the Mediterranean. With a flatweave finish, this popular outdoor runner injects a little taste of Greece to your own al fresco haven. Just imagine entertaining your friends on your balcony with this wool-like runner to cushion weary feet.
This rug is impressively hard-wearing too. It's designed to shrug off stains, resist water and it's easy to clean. That means there's no need to hold your breath every time one of the kids parks themselves on it to enjoy a meal! Speaking of the kids, make sure you sit them down and tell them the story of this runner's start in life – it was created from recycled plastic bottles rescued from waterways and rivers.
An outdoor runner rug can make your time in the garden feel more special than ever. Whether you have a terrace, balcony or a patio, there's an outdoor rug runner that will add an instant splash of chic to your outdoor area. All of our rugs are made entirely from recycled plastic bottles, and they're resistant to moths, mould, water and stains. That means you're free to unroll your rug and relax under wide open skies. Each rug is so hardy it'll last for years to come, so the only real decision is which one will look best in your garden.