With the announcement that Pantone's much-heralded colour of the year in 2019 will be 'Living Coral', we're pleased to introduce you to our Weaver Green living coral rugs and textiles, that not only hit the right colour palette, but also ensure that our coral reefs stay alive and don't drown under more ocean-borne plastic waste.
Since we first started making textile products from recycled plastic bottles, coral has been one of our go-to colour choices. From our gorgeous coral cushions and blankets, to our brand new Tarifa Ottomans and Kilim footstools, our brilliant range of 'living coral' accessories that will put a splash of colour in your home.
Coral is a brilliant accent colour, sitting well with soft greys, taupe and even washed out gooseberry tones. It's versatile, playful and vibrant – the perfect colour to create seasonal interest.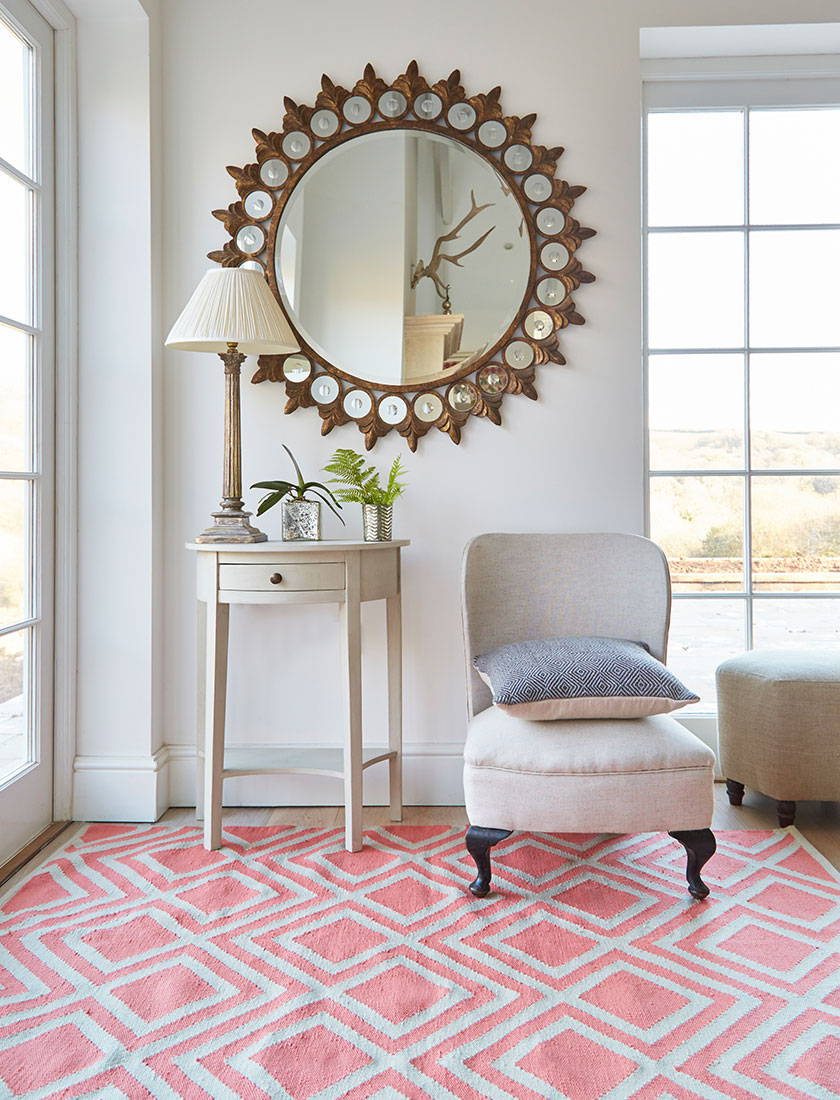 Our selection of coral rugs are a brilliant way of bringing a base level of colour to any room. 
From the bold, geometric pattern of our Coral Iris Rug and the washed-out Kilim style Nomad Tarifa Rug to the more subtle tones of our Andalucia Cadiz Rug, you can choose the right level of colour for your home.
We especially love the mix of coral, pinks, yellows and bluey greys in our Andalucia Zahara Rug which are perfect for pulling in elements of colour from other accessories in a living room or kitchen.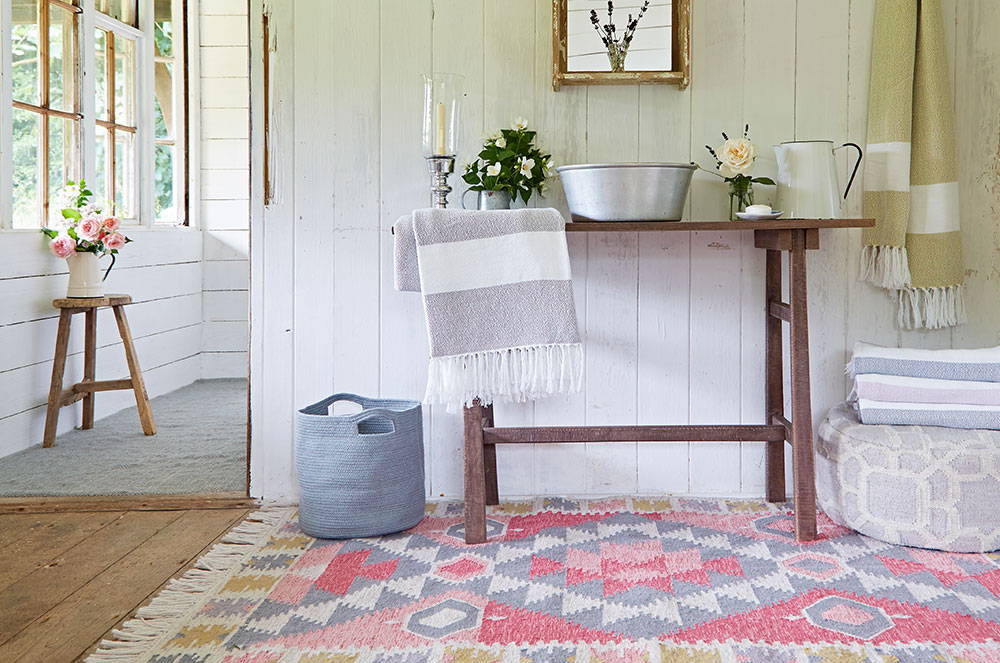 Our Diamond Coral Cushion and Oxford Stripe Coral Cushion look great against a sofa, comfy chair or bed, and are also perfect for creating colour pops on outdoor garden furniture – we use ours on a Lutyens bench in the summer months to create soft and comfortable seating areas in the garden.
Stain-resistant and machine washable, these gorgeously soft and squidgy cushions really do look and feel just like wool. They include the cushion inner, which of course is also made entirely from plastic bottles.
Being water-resistant our cushions are perfect for outdoor use, as water flows through the fabric and they can be easily air-dried.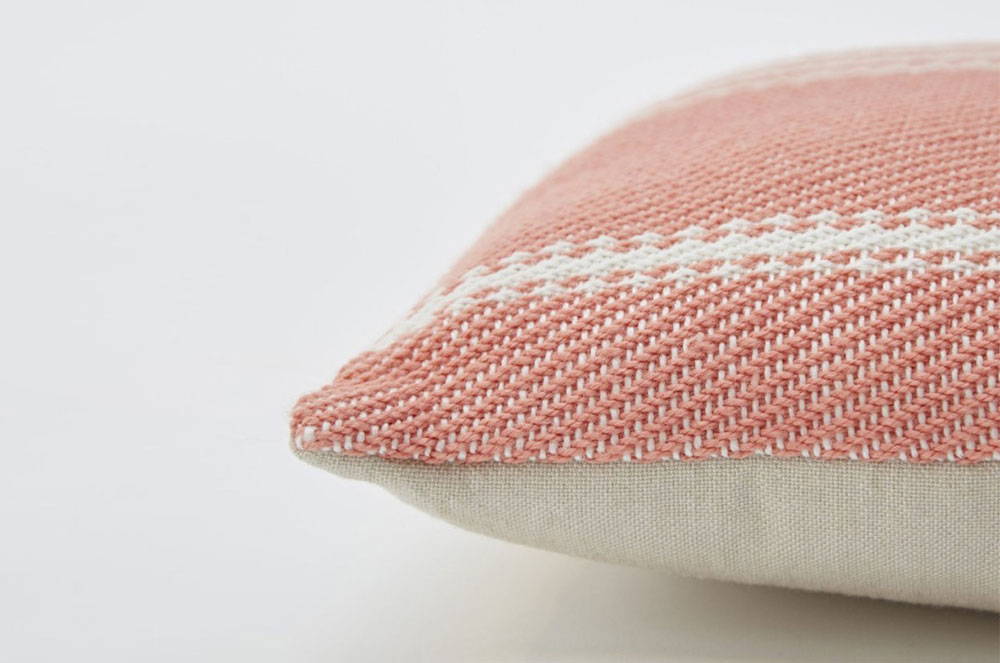 For on-trend summer lounging, see our Coral Hammam throws – perfect on the beach or by the pool, with a soft cotton-like feel and quick drying so you won't end up lying on a soggy towel.
Or, for the ultimate cosy-up blanket, choose between our Oxford Stripe Coral Blanket or beautiful Diamond Coral Blankets. These heavy-weight large blankets are over 2 metres long and made from around 300 recycled plastic bottles each.
Thanks to their easy-to-clean credentials, they're perfect for using inside and out in the garden or at the beach. Moths won't eat them, dust mites won't live in them and they're perfect for allergy sufferers too.
The Iris Coral Bag is the perfect accessory for anyone wanting to liven up their look. With chunky leather handles and our gorgeous striped Iris pattern, this large shopper-style tote bag can hold all of your essentials plus a bit extra and with the same easy clean and water-resistant properties as our cushions, rugs and blankets, it won't stain when a pen leaks on it or you forget to put the lid on your mascara.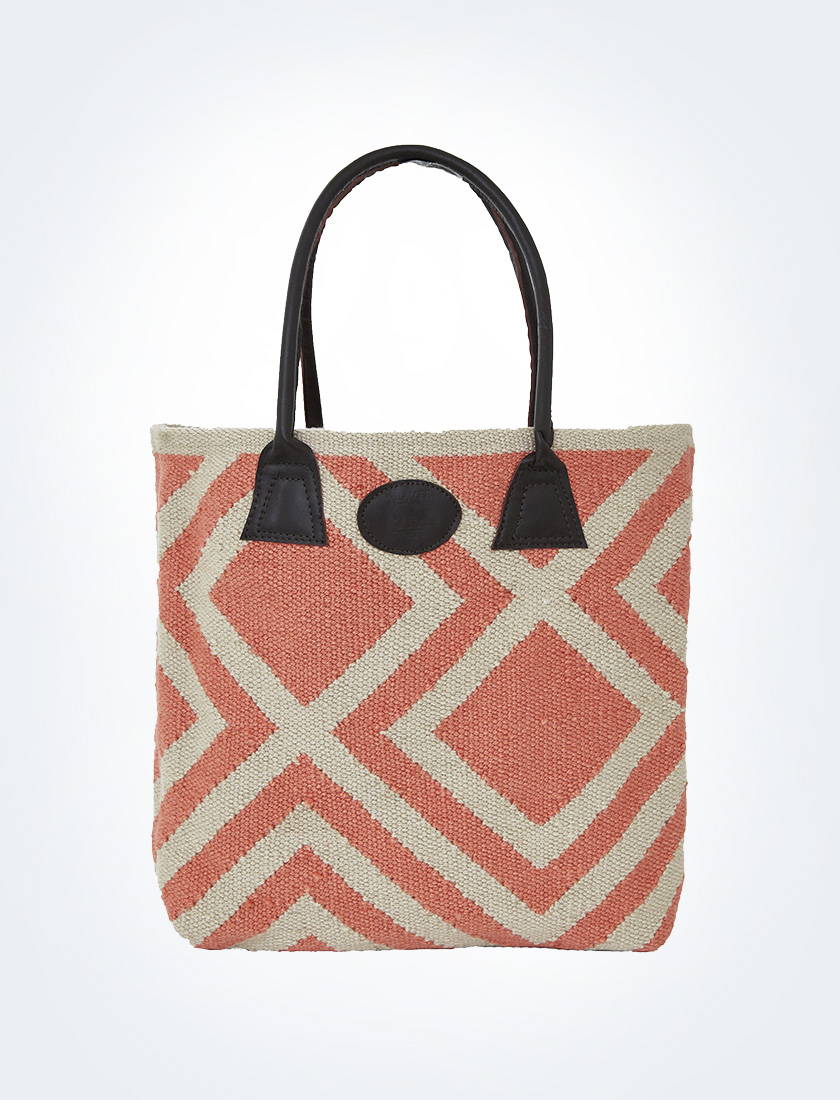 Coral Footstools and Ottomans
Finally, if you want to put your feet up, our brilliant Nomad Tarifal Coral Footstools and stunning new Coral Ottomans are the answer. Our footstools are a colourful addition to any lounge or living area, while our ottoman coffee tables double up as bench seats for the end of a bed or under a window.
Both are a dream for pet owners, red wine spillers and households with children.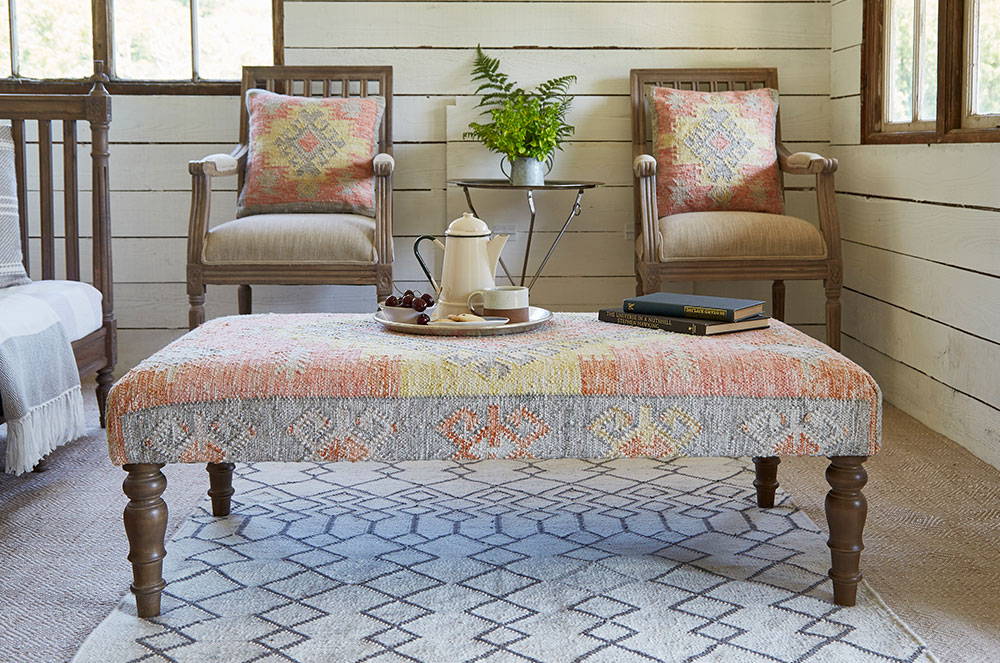 Coral accessories that don't cost the earth
Since we started our little company in 2016, we've salvaged nearly 70 million plastic bottles, with over 40% of those plastic bottles being rescued from watercourses and rivers. 
We use a completely closed water treatment process in both the production and dying of our yarns, with the same 5,000 litres of water being continually circulated, filtered, cleaned and purified to be reused for the next yarn production batch. This eliminates the release of microfibers and contaminants into the water system and onto the sea. We don't use toxic dyes or formaldehyde in any of our processes, and we even use recycled rice and wheat husks to heat low emission boilers and steam equipment when we're making our yarn. 
All of this along with some great designs and beautiful colours means our products have a small footprint on our planet and seas, but a big impact in your homes and gardens...