Bringing Living Coral Into Your Home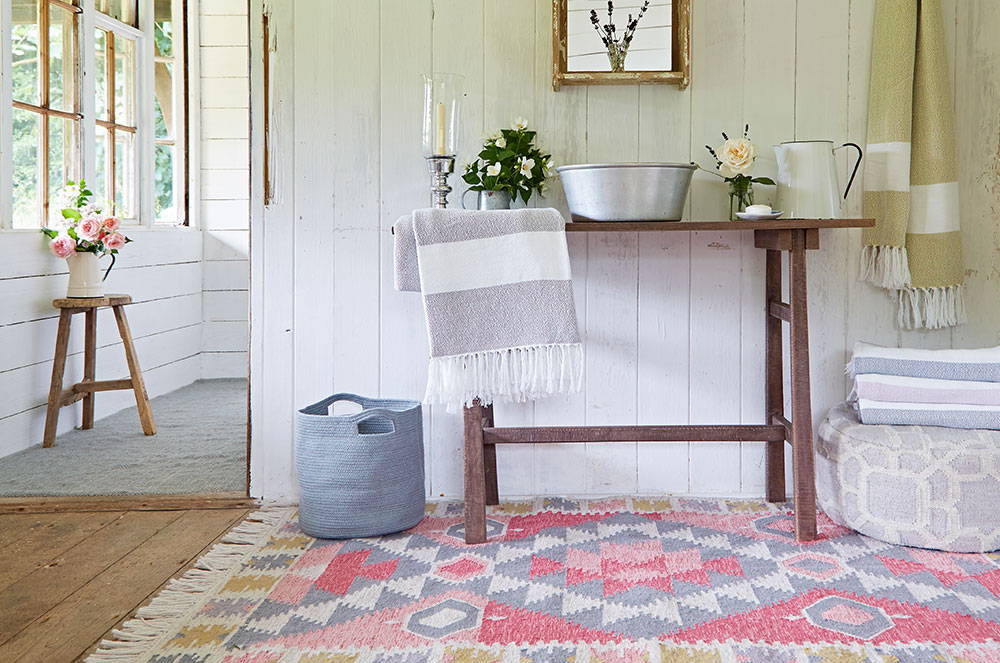 The Iris Coral Bag is the perfect accessory for anyone wanting to liven up their look. With chunky leather handles and our gorgeous striped Iris pattern, this large shopper-style tote bag can hold all of your essentials plus a bit extra and with the same easy clean and water resistant properties as our cushions, rugs and blankets, it won't stain when a pen leaks on it or you forget to put the lid on your mascara.
Coral Footstools and Ottomans
Finally, if you want to put your feet up, our brilliant Nomad Tarifal Coral Footstools and stunning new Coral Ottomans are the answer. Our footstools are a colourful addition to any lounge or living area, while our ottoman coffee tables double up as bench seats for the end of a bed or under a window.
Both are a dream for pet owners, red wine spillers and households with children.
Coral accessories that don't cost the earth
Since we started our little company in 2016, we've salvaged nearly 70 million plastic bottles, with over 40% of those plastic bottles being rescued water courses and rivers.
We use a completely closed water treatment process in both the production and dying of our yarns, with the same 5,000 litres of water being continually circulated, filtered, cleaned and purified to be reused for the next yarn production batch. This eliminates the release of microfibers and contaminants into the water system and on to the sea.We don't use toxic dyes or formaldehyde in any of our processes, and we even use recycled rice and wheat husks to heat low emission boilers and steam equipment when we're making our yarn.
All of this along with some great designs and beautiful colours means our products have a small footprint on our planet and seas, but a big impact in your homes and gardens...