There are some interior design styles that work in any room of the house, and Moroccan décor is one of them. Majestic and intoxicating, this corner of Northern Africa has long inspired home decorators around the world with its warm colours and eye-catching patterns. From the living room to the bedroom and even the bathroom, there isn't a room in the house that doesn't feel more beautiful than ever with a gentle Moroccan makeover.
Creating a Moroccan home décor is a great opportunity to pick out looks and accessories you've never tried before. This is the chance to add a creative touch to your favourite spaces and create an elegant look that blends with homely vibes.
Moroccan décor is all about rich colours and patterns that captivate. It's about layering looks and accessories that reflect a country of many cultures and many stories. If you do it your own way, your home can tell its own story too.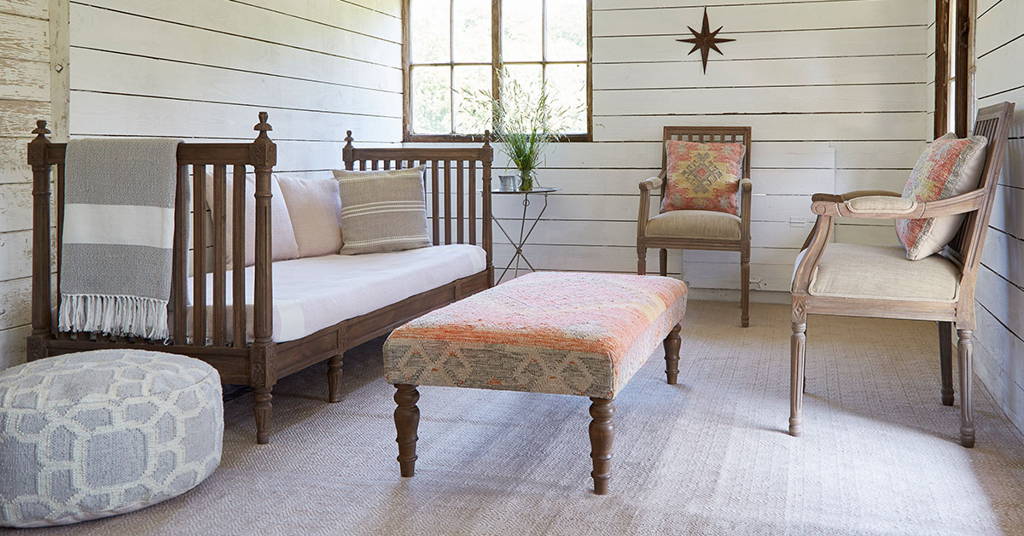 Adding Moroccan decor to your home
Introducing Moroccan home décor to your interiors doesn't have to cost the Earth. The beauty of this look is that it can be brought to life with small, simple changes. Pick out some key accessories to act as the room's focal points and go from there. If you're opting for a few patterned pieces, it's a good idea to keep the rest of your furnishings simple to avoid the look becoming too busy.
Remember that when it comes to the magic of Morocco, textiles and texture are everything. This look is about feeling instantly at home yet inspired by warm accessories that fire the imagination. In Morocco, a welcoming space often combines soft rugs underfoot and comforting cushions to curl up on.
Aim to create a space that makes people want to linger, converse and unwind. Practical touches such as lamps and mirrors can complete the look and brighten your space all year round. If you're not sure where to start, it's helpful to choose your soft furnishings and work on the rest later.
Moroccan rugs
Nothing transforms a room quite like a Moroccan rug. Simply adding a rug to a space creates instant warmth and an inviting atmosphere. Our Moroccan rug collection includes traditional patterns that have graced homes for generations, and each one is made from hundreds of recycled plastic bottles 
The Kasbah Ink Rug is made from our toughest weave, making it ideal for those busy areas of the house. With a dreamy blue and grey colour scheme and a classic geometric pattern, this hardy rug is deceptively durable in high-traffic areas of the home.
For a more neutral colour, the Medina Tangier Rug is another firm favourite. A simple way to add another layer to a room, this elegant rug adds the perfect touch to a colourful space. Machine washable and hard-wearing, this one's available in a range of sizes to fit your favourite spot. We love the fact that it's so durable you can enjoy your free time without worrying about keeping it clean, so you'll be free to uncork that red wine and relax in style.
The Kasbah Nimbus Rug combines subtle blues and greys with a classic design often found in Moroccan décor. Pop it in a hallway to add some character to the space or enjoy it in the living room to complete the look. Add a floor cushion to your rug to create a cosy space for the kids to curl up. Or why not sink onto a cushion with a visiting friend to maximise floor space and catch up in style?
Moroccan cushions
If you think about it, we spend most of our free time in our living rooms, bedrooms and kitchens, so it makes sense that they look and feel amazing. It's easy to complete your Moroccan décor with one or two well-chosen cushions. We have a gorgeous collection of cushions inspired by the cultures and homes of North Africa.
If you usually pick a space on your living room floor to settle for an evening, how about making life more comfortable with a floor cushion? The Medina Tangier Floor Cushion can be washed in the machine and is stain resistant. You'll be able to cuddle up with the cat, read to the kids and even tuck into your dinner without worrying about spills and splashes.
The Kasbah Smoke Cushion looks enchanting on the bed or on the living room sofa. Wherever you need a touch of comfort, let this pale blue pattern work its charm. With a traditional pattern inspired by Moroccan shores, this beautiful cushion adds texture to a space without being overpowering. All our Moroccan cushions are as soft as wool to touch, with the advantage of being extremely durable.
Moroccan home accessories
Don't forget to complete your look with some Moroccan home accessories. There's no need to stick to one rigid colour scheme, so you can pick out some items you really love just to finish your makeover.
Our footstools make use of traditional textiles from around the globe. With captivating patterns to make each one a focal point, you'll be able to pick your favourite and pop your feet up for some true time out in your new-look space. House plants are a great way to add texture to your Moroccan décor, and bold wall art can add a splash of culture to your new design.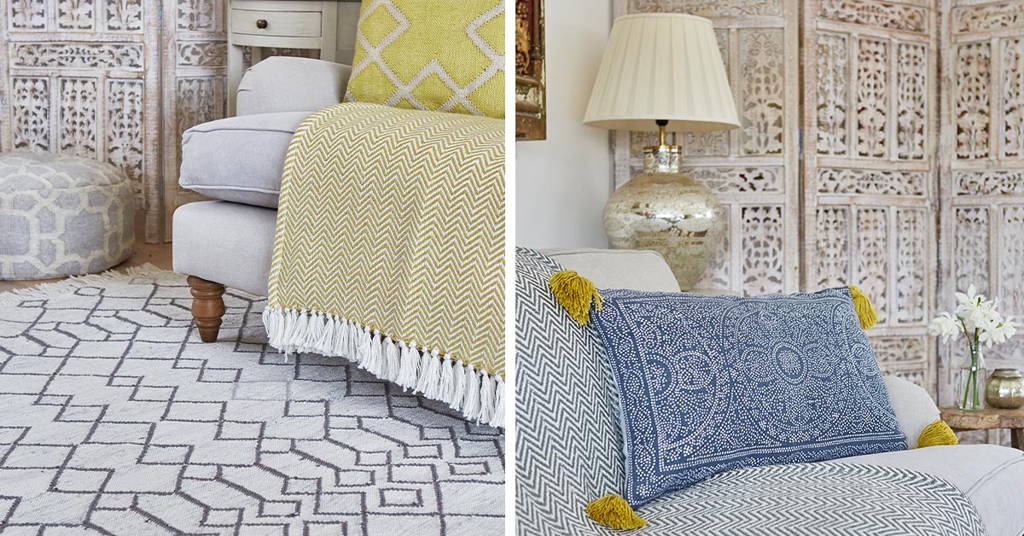 Why Weaver Green? Our products don't just look great, they're doing their bit for the planet too. Our products are made using recycled plastic bottles, reclaimed from waterways, rivers and seas. They may be extremely hard-wearing, but they look and feel so soft to touch you'd never guess they started life as plastic. Our products are stain, water and moth-resistant so you'll be able to enjoy them for years to come.
Now, all that's left to do is to pick your Moroccan-inspired favourites and start creating your new home décor.