Sink onto one of our outdoor floor cushions and trust us, you'll never look at garden time in the same way again. So comfortable you won't want to get up again, this summery collection of cushions is all about enjoying your garden in style.
Lie your favourite blanket on your lawn, add a couple of floor cushions and embrace the relaxing powers of the Great Outdoors. If you're hosting your friends and family, floor cushions add a bohemian touch that your guests will love. There's something grounding about catching up at floor level, and they transform any garden with traditional patterns inspired by far-flung shores.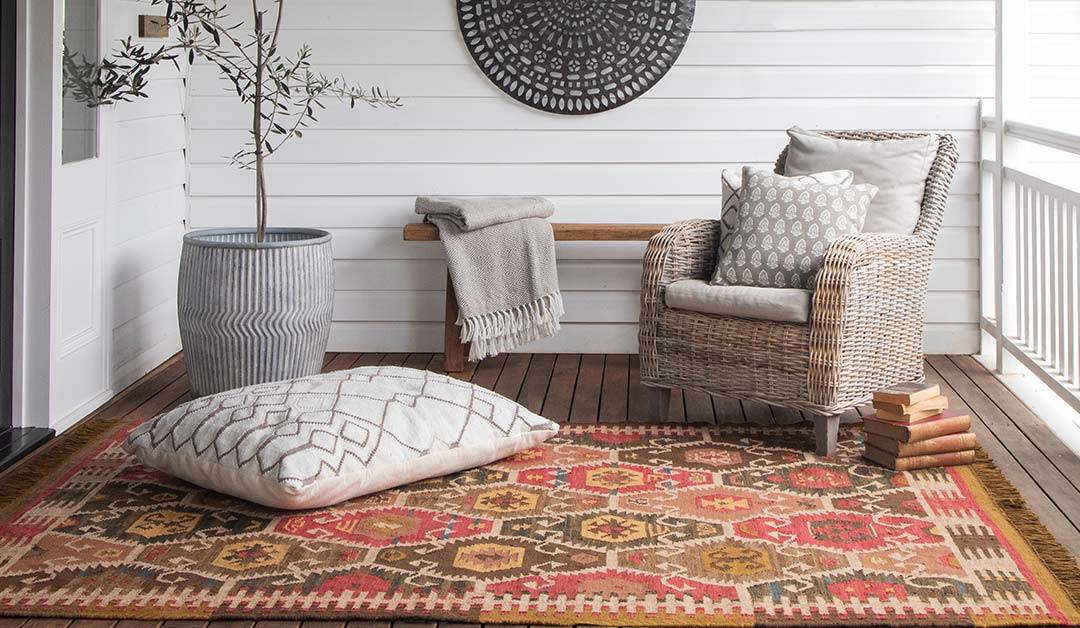 Our cushions are plenty big enough for you to stretch out and get comfortable. That means you get to while away sleepy days firmly on the ground instead of tossing and turning on the unforgiving old sun lounger. Our garden floor cushions are as practical as they are comfy. Simple to clean and water and stain-resistant, they're an easy addition to your outside space.
With so many fabulous designs to choose from, picking your favourites may be a little tricky. To get you started, here are 5 of our fanciest outdoor floor cushions...
Five of our favourites
How gorgeous are the bright colours of the Nomad Patara Floor Cushion? This Kilim-inspired cushion combines a traditional pattern with earthy colours to make a striking accessory. If those exotic colours inspire a lazy day in the fresh air, this cushion's ideal for use outdoors as well as indoors.
This cushion may be pretty, but it's hardy too. It's durable enough to use out in the garden on a warm summer's day, or in front of the fireplace on a chilly winter's evening. However you choose to enjoy it, we're sure this floor cushion will become one of the family's favourite accessories.
There's no need to worry about spills and stains, as you can pop your Nomad Patara cushion cover in the washing machine when it needs a freshen up. That means the kids and pets can make themselves comfy too!
Something about a Moroccan-inspired design just makes us want to curl up on a floor cushion with a good book. Kasbah Ink has a beautiful blue pattern that adds a calming tone to any summer garden. Perfect for those who are happiest sat at floor level, this cushion feels just as soft as wool to touch.
Don't be fooled though, it may look majestic, but it can more than hold its own in a busy household. This cushion is machine washable and easy to clean.
We're sure this one will quickly become one of your favourite garden floor cushions, as it's ideal for indoor and outdoor use. You'd never guess it's made entirely from recycled plastic bottles…
Now this is one of those brilliantly large outdoor floor cushions that looks fantastic anywhere. With cool, neutral colours and an Andalucian-inspired design, it oozes laidback Mediterranean charm. Thanks to its elegant design, this cushion makes an easy addition to any garden or summerhouse without clashing with your other accessories.
That means it'll quickly become a family go-to for chillout sessions in the garden. If you're determined to spend as many hours as you can under sunny skies this summer, get ready to while away many an hour with this floor cushion propping you up!
Just like all our garden floor cushions, Andalucía Cadiz is resistant to moths and dust mites, so it's ideal for anyone who suffers with allergies. Dig out your favourite summer read, pick a quiet corner of your garden, and say hello to a feelgood summer.
Medina Tangier is one of our best-loved water-resistant outdoor floor cushions. The name alone is enough to make us feel like taking a sneaky siesta with a glass of vino to hand. 
Large enough to make a comfortable companion on a blissful day outside, this floor cushion has a gorgeous Moroccan-inspired design. It may be white, but this cushion is happily resistant to spills and stains, so you can share it with the children or your dog (if you want to of course!). Simply unzip the cover and pop it in the machine at 40 degrees and it will come up good as new.
We're all appreciating those catch ups with friends again this year, so why not reconnect over a catch up at floor level? Just like all our floor cushions, this one is hand-loomed and made from recycled plastic bottles.
We're always excited to introduce an old favourite from our collection, and the Juno Gooseberry has a character all of its own. The fun geometric Juno design makes this floor cushion a cheerful addition to your garden or summerhouse. With a gorgeous mustard yellow design, this water-resistant floor cushion will turn up the brightness even on a cloudy day!
Picture al fresco cuddles with the dog while the barbeque sizzles, before stealing forty winks while the kids play nearby. This cushion's durable enough for the day to day, yet comfy enough to make your time outdoors just that little bit more luxurious.
Our outdoor floor cushions are a simple way to add a new twist to your outside space. If you spent the last year or so transforming your interior décor, it's easy to give your garden or summerhouse a new look with a few statement accessories that will make a huge difference. Arrange your cushions on your favourite Weaver Green rug or blanket for instant boho chic.
If you're heading on a picnic, our bags are large enough to hold all your essentials too. For those al fresco meals in the garden, you'll find a range of napkins and tablecloths that add a stylish feel to any occasion, and why not pop one of our hardy rugs underfoot to make your guests feel right at home?