With a foreign holiday off the cards for many of us, this summer is the perfect opportunity to indulge in a classic British glamping experience. If you've been toying with the idea of trying something different, now's the time.
The great thing about glamping is that you can do it your own way. Once you pick the perfect tent to call home, you get to embrace the joy of adding little touches of luxury with gorgeous accessories. Forget the days of leaky tents and an old sleeping bag to keep you warm. Glamping décor is about getting creative with your outside space.
Think bold patterns and eye-catching colours, a soft rug outside your tent and family feasts at the perfect table. It's all about being with your favourite people in a beautiful setting. Let's take a look at some of the glamping accessories you can't leave home without...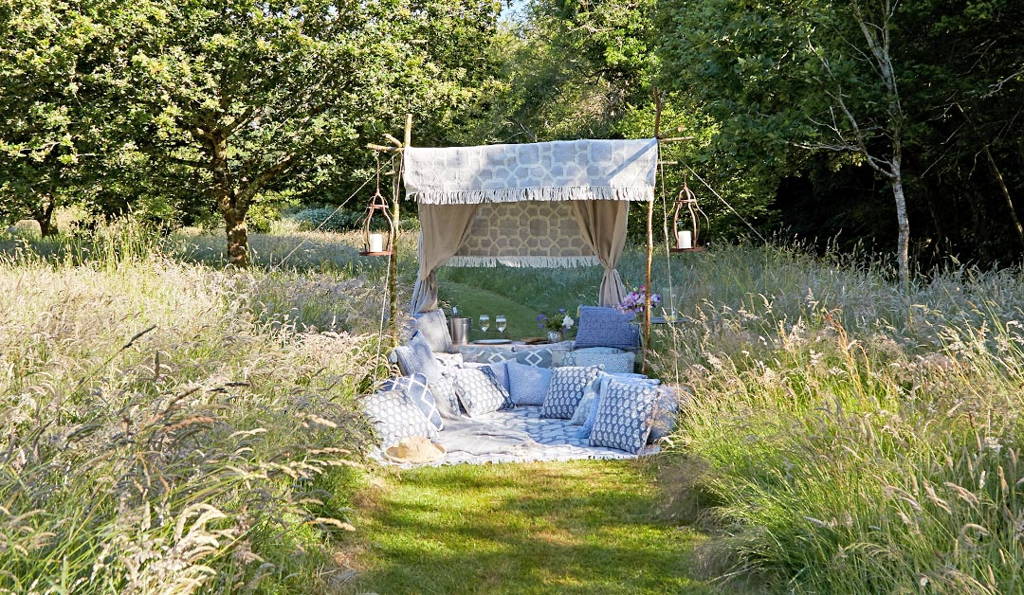 Five must have glamping items
1. Bell tent
First thing's first. Before you can achieve the perfect glamping décor you need the perfect tent. You'll find spacious choices for the whole family, or cosier options for those romantic breaks for two. Whoever you're taking, picking the perfect tent is only the beginning. Nailing bell tent décor is half the fun.
If you're already sold on the beauty of boho, you'll be in your element. When it comes to how to decorate a bell tent, it's all about warm, thoughtful accessories that make the place feel homely. Glamping accessories include everything from twinkling lights to welcoming cushions and a soft carpet to keep your feet comfy.
Don't worry about matching your shades and furnishings, glamping décor should be an eclectic combination of the things that make you feel right at home.
You can't control the weather during your glamping trip, but with this super bright Darjeeling Rainbow Cushion you'll have warm, sunny vibes on hand at all times. Bold colours will inject the fun into your glamping décor, brightening your little corner of the Great Outdoors.
Part of our water resistant cushions range, the rainbow cushion comes in two sizes. It's resistant to water, mould and moths, so the only thing you'll need to worry about is where to rest your head for the best view of the stars above. If your cushion does get wet, it's quick drying.
With a rich, boho pattern and earthy colours, this glamping cushion will make you feel instantly at home. After all, even adventurers need somewhere soft to rest their heads after a long day.
A glamping break is a perfect excuse to forget the daily grind and embrace your inner nomad – for a few days anyway. So, what better glamping accessory to complete your al fresco abode than the gorgeous Nomad Tarifa Rug?
Inspired by the dreamy patterns of Persia, this Kilim rug uses our toughest weave to ensure it can hold its own outside. Simply pop it down in or outside your tent to add a homely feel to your glamping experience and let the adventure begin.
Glamping rugs are becoming more and more popular with those looking to enjoy the outdoors with a few creature comforts. Water and mould resistant, this hand-woven rug can even be machine washed when you get home.
When it comes to glamping accessories, there's one all-important staple that everyone will love – a big cosy blanket for snuggling under blue skies. The Oxford Stripe Coral Blanket fits the bill perfectly. With a stylish design for those Instagram snaps, it's also brilliantly practical.
Made from 300 recycled plastic bottles, this beautiful blanket feels as soft as wool. Don't be fooled though, as it's hardy enough for summer glamping sessions. Machine washable and stain resistant, you'll be able to cosy up for cuddles and enjoy the moment without worrying about spills and stains.
We reckon you'll enjoy many a sunset with this cosy coral blanket wrapped around your shoulders, before bundling the kids up under it for a snug night's sleep under canvas.
All that fresh air is bound to mean bigger appetites than ever, and that means you get to create a delightful space for long lazy meals. As with any table setting, al fresco dining is all about the accessories. The Toulouse Blue Striped Tablecloth will look fabulous in the all-important family photos, and it's made from 100% recycled plastic bottles with the look and feel of linen.
It may look just as stylish as linen, but it's far more resistant to spills and stains. That means you guys can toast, feast and enjoy the moment without worrying about how you're going to get your tablecloth clean afterwards. We love the rustic French feel of the Toulouse design, and it's even machine washable.
Our favourite places to glamp in South Devon 
You can probably tell that we're already seasoned glampers, and that's because we're spoilt for places to glamp near Weaver Green HQ. Living in South Devon means we never have to travel too far to set up a home under the stars for a few days. Happily, for you guys, we're only too eager to share a few of our favourite places to glamp.
If you fancy glamping just a stone's throw from the sea, Mount Folly Farm in the South Hams is perfect. You'll drift off to sleep after a day in the fresh sea air, before spending each day walking sandy beaches, hiking the coast or exploring nearby Bigbury-On-Sea.
If you see yourself glamping in slightly fancy surroundings, how about setting up your tent at South Allington House between Salcombe and Beesands? It's not every day you get to wake up outside a gorgeous Georgian manor, and you'll be right in an Area of Outstanding Natural Beauty.
If you're glamping with little beach bums who love to be by the sea, head to Slapton Sands. The Camping and Caravan Club Site at Slapton has safari tents ready for you to move into, and you'll find some of Devon's best-loved beaches right on your doorstep. What more could you ask for?