Sunsets on barley meadows, lemon groves and primrose verges, it's easy to see why yellow remains the colour of energy, positivity and verve.
Capturing this bonny 'springtime' mood and introducing it to your home décor and furnishings can be equally transformative. From subtle Ochre undertones to accents of buttermilk, every room deserves its hint of yellow.
We've put together some suggestions on how you can use yellow accessories to help you on your quest to brighten up your household...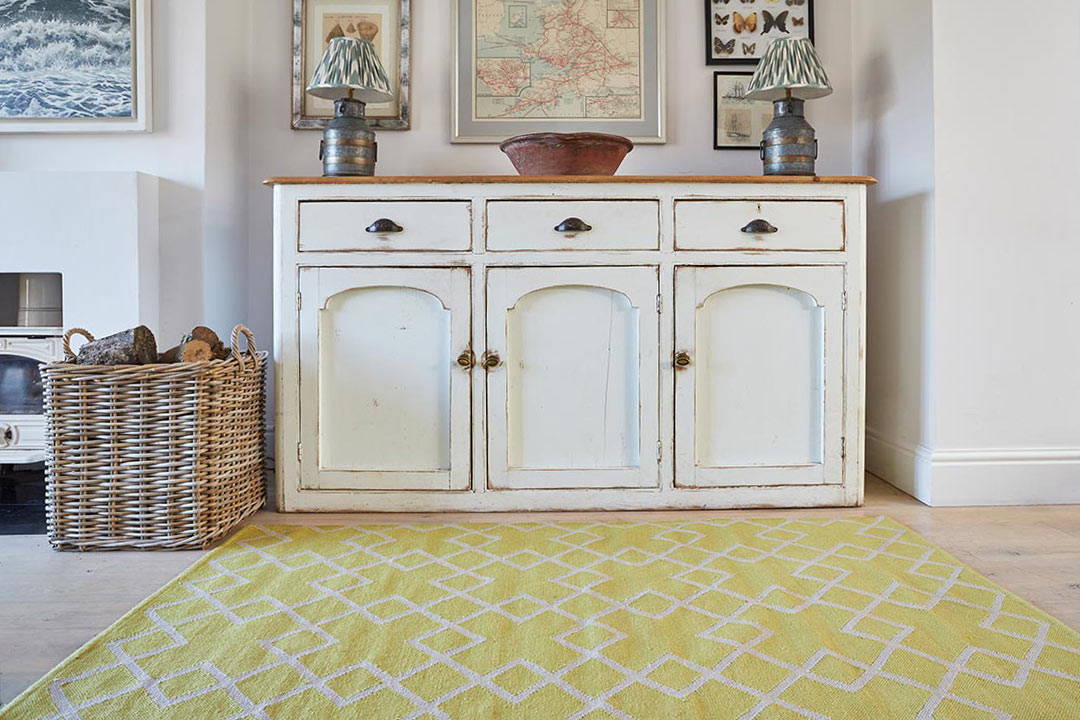 Roll out the rugs
They say nothing anchors a room quite like a well-placed rug. As practical as they are ornate, a rug can blend seamlessly into the ensemble or work as an eye-catching centrepiece. When you're exploring ways of introducing new colours into your rooms, many designers believe you should start from the bottom and focus foremost on your floor space. Yellow rugs can breathe life into monotones and conjure welcome contrasts to darker surfaces. 
With its softer, looser weave and vibrant hues, the gentle wefts of our Polperro Stripe Gooseberry Rug would make for an uplifting addition to any bedroom floor and could be just the finishing touch you've been searching for. Available in six standard sizes, this durable rug will add colour, warmth and texture to living rooms, bedrooms, and even bathrooms. 
For a more robust option, our extremely hard-wearing, flat-woven yellow Juno rug is a brilliant choice for kitchens and heavy traffic areas. With its strong geometric patterning and washed acid yellow hue, our Gooseberry Juno Rug will add a new dimension and bring energy to the most tired interiors. As with all our products, these rugs are made entirely from recycled plastic bottles, spun into yarn and then hand-loomed into gorgeous textiles that are soft as wool.
Adding colour with yellow cushions & throws
The whole mood of a room can be transformed by the addition of a bright throw or a tasteful scattering of yellow cushions. There's no need to break the budget or spend 'big' on major furnishings when all that's needed is a little bit of imagination and some extra 'pops' of colour to lift a room.
If you're thinking of adding some yellow contrasts to your settee or sofa, then layering is a key consideration. It's also important to think about mixing and contrasting your textures, complimenting chunkier furnishings such as weaves and knits with softer touches.
When it comes to yellow cushions, explore different patterns, shapes and sizes, starting with the largest and working forward.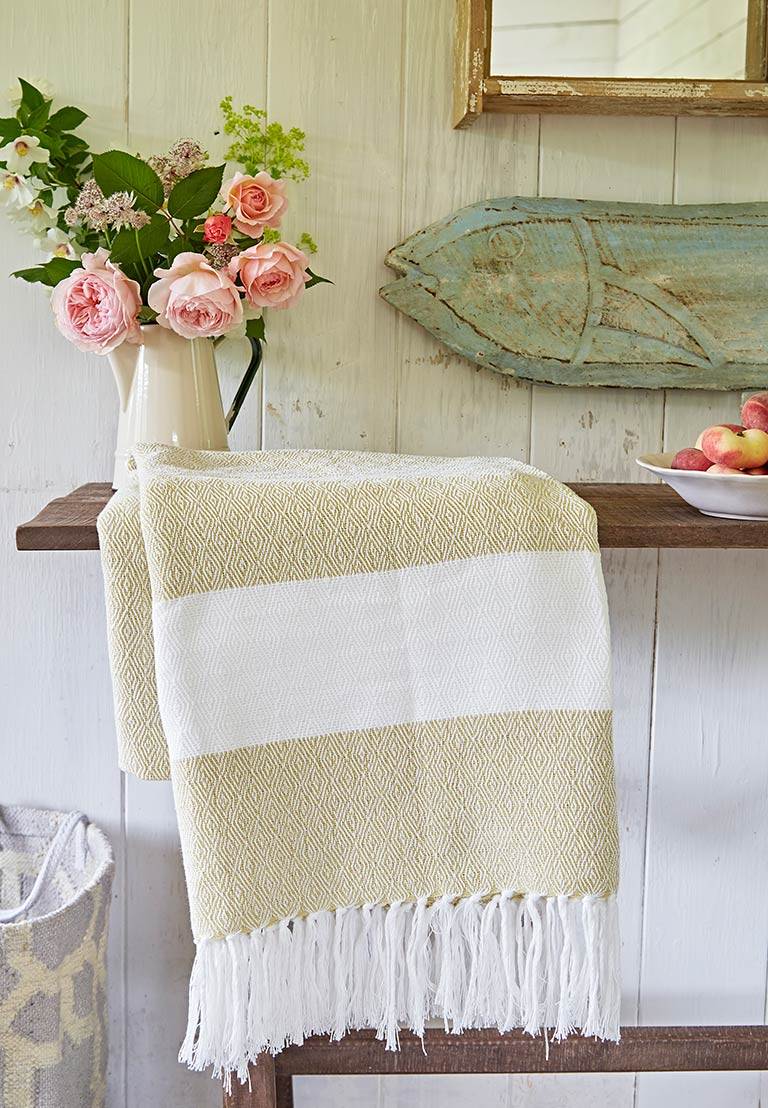 Throws can be neatly arranged or casually draped; there are no hard and fast rules, just lots of versatility depending on the season or occasion. The beauty of the colour yellow is that it not only compliments colours from the warm palette, but it also works with a host of other shades, from soft greens and dusky blues to fluro corals and muted greys.
As soft and light as cotton, our highly versatile Gooseberry Hammam is perfect for every occasion, both indoors and out. We use our hammams on the beach, as picnic blankets and throws on steamer chairs, as well as great sofa covers to snuggle under or act as a child-friendly protection buffer for your sofa covers.
For the perfect partner for your favourite sofa or armchair, try these beautiful Diamond Gooseberry Cushions. A stylish addition to any living room, summerhouse or bedroom, our amazing hammam cushions offer a softness that belies their durability and hard-wearing qualities.
Did you know that each of Weaver Green's square size cushions are made from up to 300 recycled plastic bottles and weaved as soft as cotton? So, if you're thinking of going yellow, you can also go green!
Adding sunshine with wall hangings & accessories
You don't have to spend a fortune at Sotheby's to make a statement with art. In fact, quite the opposite. When it comes to filling your home with ornaments and décor it's nothing to do with the price tag and everything to do with capturing the character of both the room and its inhabitants.
Introducing a wrapped or framed canvas to a lonely wall space is a wonderful way of inviting the revitalising energy of yellow into a room. For centuries artists have been using shades of yellow to demonstrate light and contrast in their masterpieces, Vincent van Gogh's passion and understanding of the colour became the hallmark for many of his works, Sunflowers and Haystacks In Provence perhaps his most famous examples.
It's worth remembering a few of the 'golden' rules when choosing your wall art. Firstly, you have to feel inspired by the piece or to put it more bluntly, you need to like it! Try to strike a balance between style and emotion.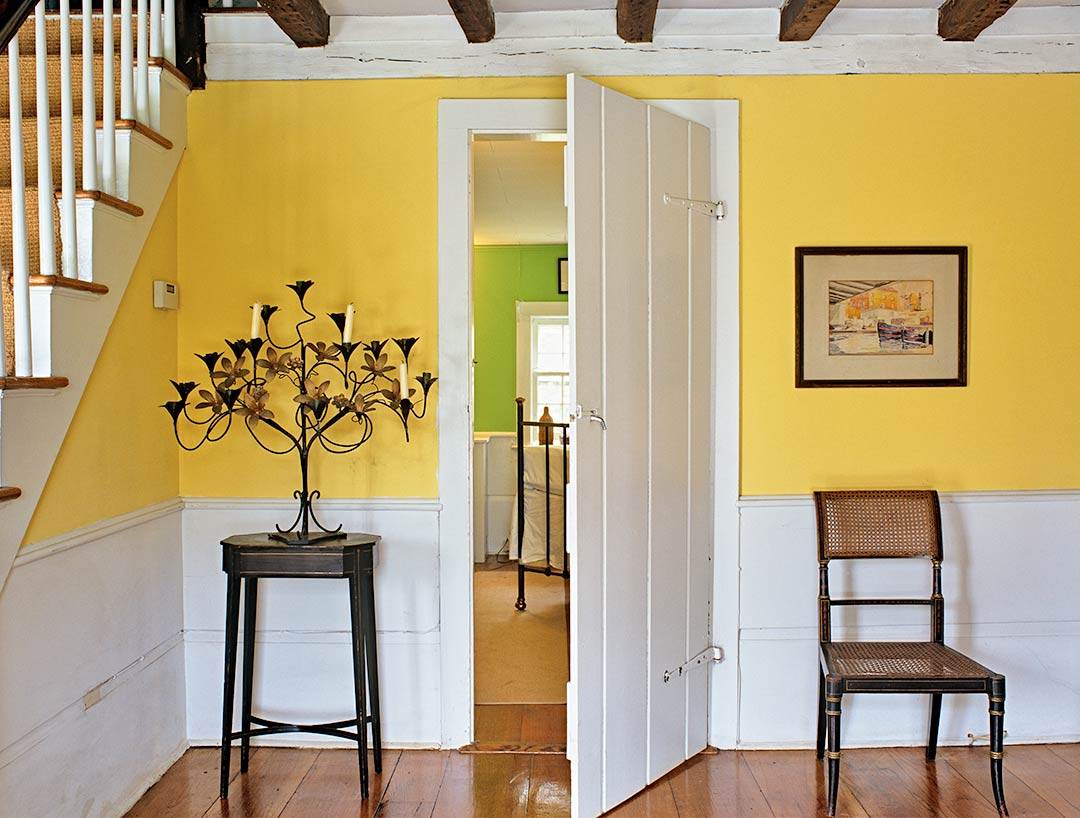 Next, you need to think about size. Too small, and the picture is lost on the wall, too large, and it dominates. Consider the height of the ceiling and the dimensions of the immediate furniture, for example, there's a rule of thumb that suggests a picture shouldn't be more than two thirds the length of the settee or sofa it's being hung above. When hanging your canvas, think about eye-line (most galleries hang their works fifty-seven inches from floor to centre as that's considered the average eye-line). There's lots to consider, so take your time and don't rush in.
Mirrors are another great way of inviting light and colour into a room, while also helping to create the illusion of space. Many people follow the laws of feng shui when hanging mirrors in order to promote positive energy flows. Get it right, and a well-placed mirror can transform a living space, flooding alcoves with new light and rebounding hues from wall to wall.
We use our kilim rugs as beautiful and simple wall hangings, simply thread wooden dowling rods through the end tassels and suspend your rug at the required height, or for rugs with no tassels tack/pin the top end to dowling poles and hang in the same way. Allow plenty of clear wall space around them, so that the intricate hand-woven designs really sing – we love using our Gooseberry Juno Dhurrie rug and our Nomad Tarifa Kilim rugs as hangings – they both look spectacular against a white wall, help with acoustics and have a softening effect on interiors.
Being bold with furniture
A room without furniture is like a sea without a shore. Poetic interludes aside, furniture plays a vital role in shaping the character of a living space. 
With so many styles to choose from, it's important to get the balance right. Sofas, armchairs, dining tables and chairs, kitchen cabinets and bedroom wardrobes, all can play a part in brightening, softening and contrasting your colour scheme.
If you've fallen in love with a particular shade of yellow, then maybe now's the time to reupholster the Chesterfield or add a coat of Farrow and Ball's 'Lancaster Yellow' to that tired looking shelving unit? Whether you want to go classic or retro, country cottage or á la mode, the timeless shade of yellow lends itself to a multitude of décors and designs.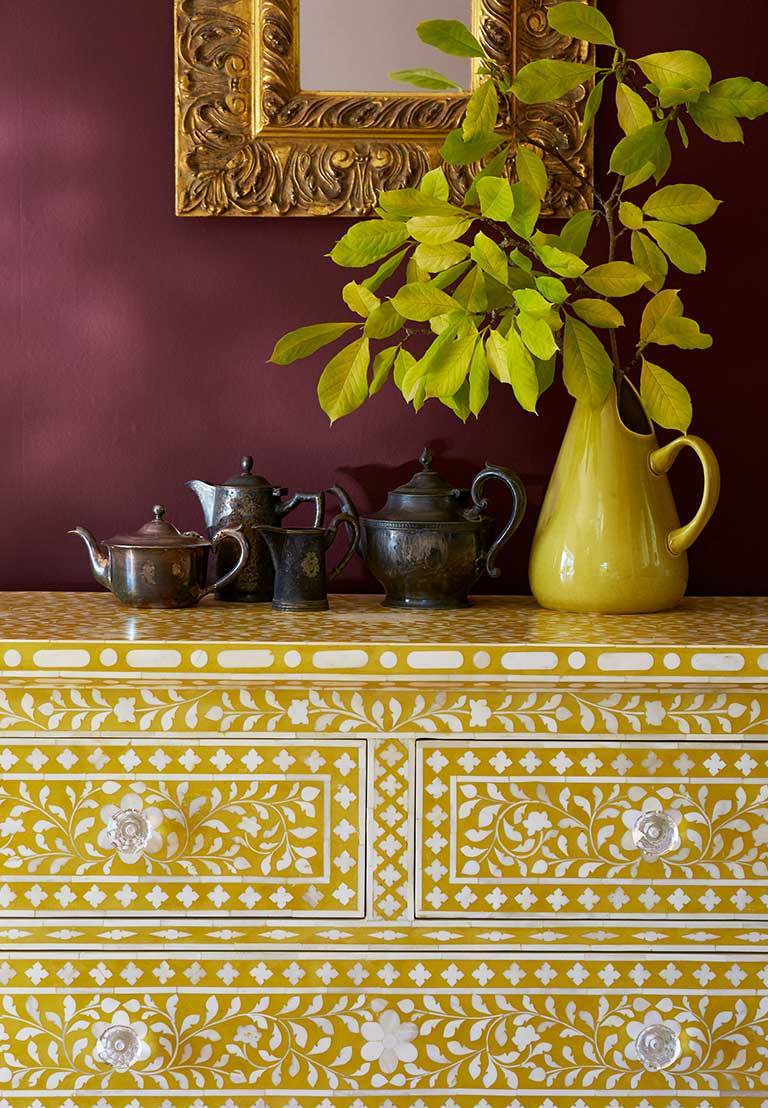 Say it with flowers
Our final suggestion never fails to brighten up a room. When it comes to finding yellow blossoms to fill your table vases the variety and choice are endless; sunflowers, snapdragons, lilies, tulips, orchids… the list goes on. They say a single daffodil is worth a thousand pleasures, and with that in mind, we've picked out a bouquet of these wonderful springtime classics to help add that final touch of yellow to your seasonal makeover.
With spring in the air, it's the ideal time to say 'out with the old and in with the new'. If you're thinking of adding some extra colour to your décor then take your pick from our wonderful gooseberry yellow collection and prepare to be inspired.
Image credits: Paul Ryan-Goff Photography