The evenings are becoming just a teeny bit lighter, and the first daffodils have already made their way above ground. Yes guys, spring is so close we can almost touch it. If you're anything like us, you'll agree that the promise of warmer days feels even more special than usual this year after so many months stuck at home.
We're sure most of you are already planning to prep your outside spaces ready for the warmer weather and a much-needed change of scene. If you're lucky enough to have a summerhouse, it's time to get it looking gorgeous and ready for those lazy spring days. We have a selection of beautiful rugs for summerhouse living, hand-woven with unique designs and practical qualities.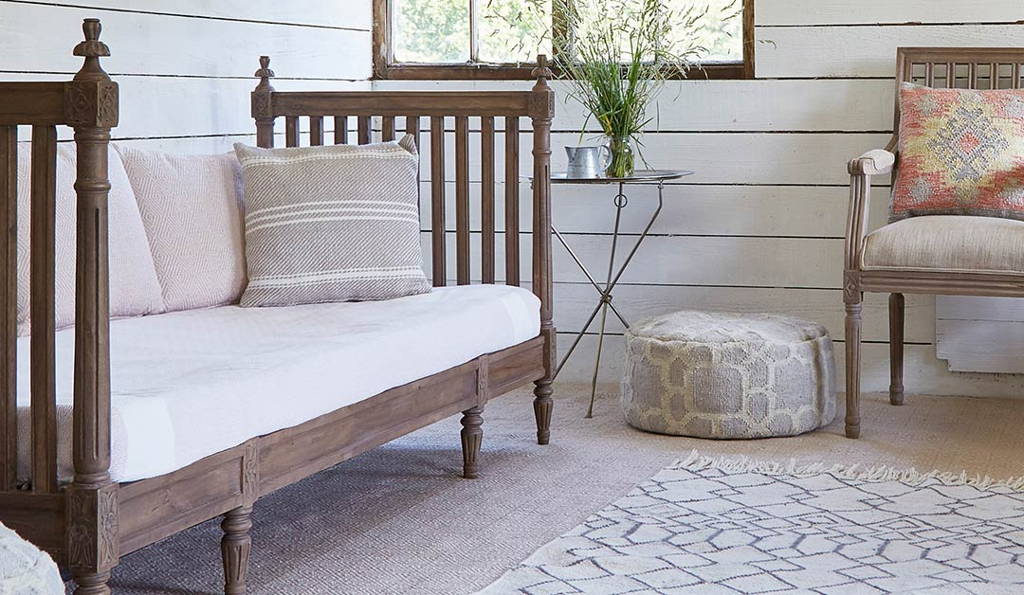 Our hand-loomed summerhouse rugs are hard-wearing and washable. That means you can sit back and listen to the birds singing with your shoes on your rug, and when you fancy freshening it up, you can just pop it on a wash.
Best of all, because they're UV stable, you can enjoy your rug in the sunlight without those beautiful colours fading. Every one of our rugs is created from recycled plastic bottles, helping to reduce the staggering numbers building up in landfill and our seas. That said, our rugs are soft to touch and look fantastic. Unlike wool, they're even resistant to pesky moths, carpet beetles and dust mites, meaning you won't come down the garden one morning to find your beautiful rug has become insect breakfast. The only thing you need to worry about is which one to choose.
Our top five summerhouse stunners!
We've picked out five of our favourite summerhouse rugs to get you on your way. Whether you're looking to add a pop of colour, some bold patterns or a funky boho design, these fabulous rugs will bring your summerhouse floor to life.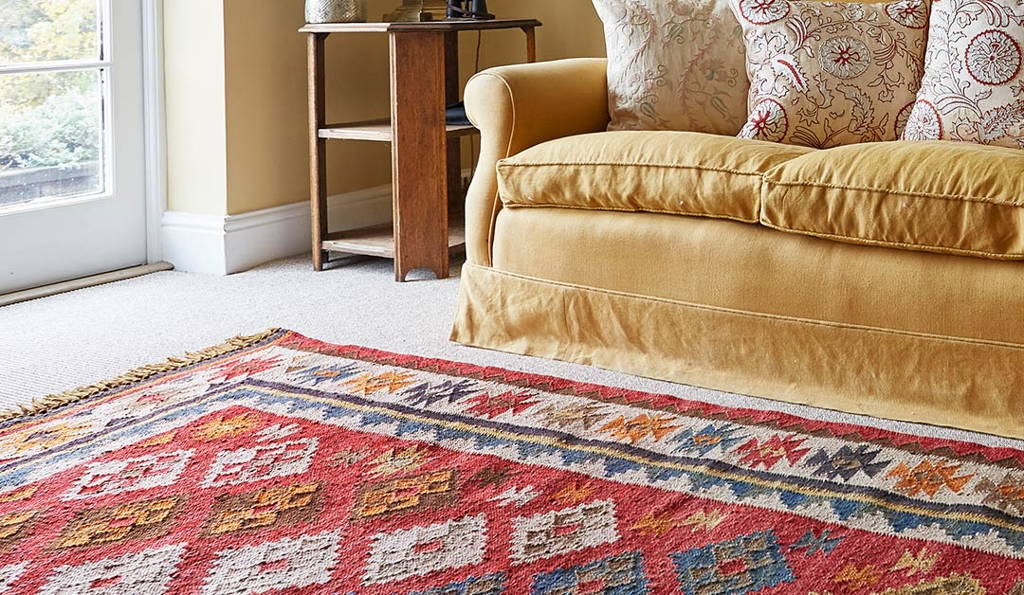 The Nomad Patara Rug is just the thing for those of you keen to welcome spring with a splash of colour. This striking little number is a new addition to our Nomad rug range, and it manages to turn heads whilst looking as though it's been part of your summerhouse space forever.
Blending deep reds with neutral tones, the geometric pattern on this earthy summerhouse rug conjures visions of balmy days spent on sun-soaked sand. If your summerhouse has a subtle décor, this beautiful Kilim rug has the personality to brighten it up and bring your quiet space to life.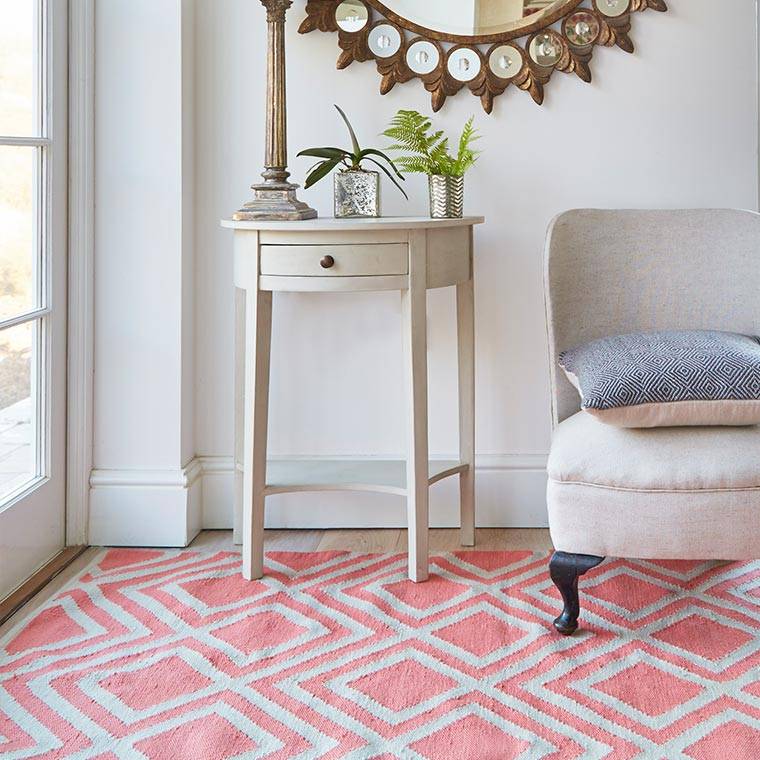 Now, who doesn't love a touch of coral? Perfect for making a statement in any space, the Coral Iris Rug combines elegant colours with a geometric pattern that's right on-trend. Just imagine sipping on a cup of tea while you watch the sun's rays dance on this pretty summerhouse rug, and as our rugs are UV stable, you'll be able to enjoy that soothing shade of coral for years to come.
If you want to transform your summerhouse with minimum effort, this rug is an easy way to create a focal point in an otherwise muted space. It may be easy on the eye, but Weaver Green rugs are hardier than they look. These rugs are stain-resistant, claw friendly and can even be used outdoors.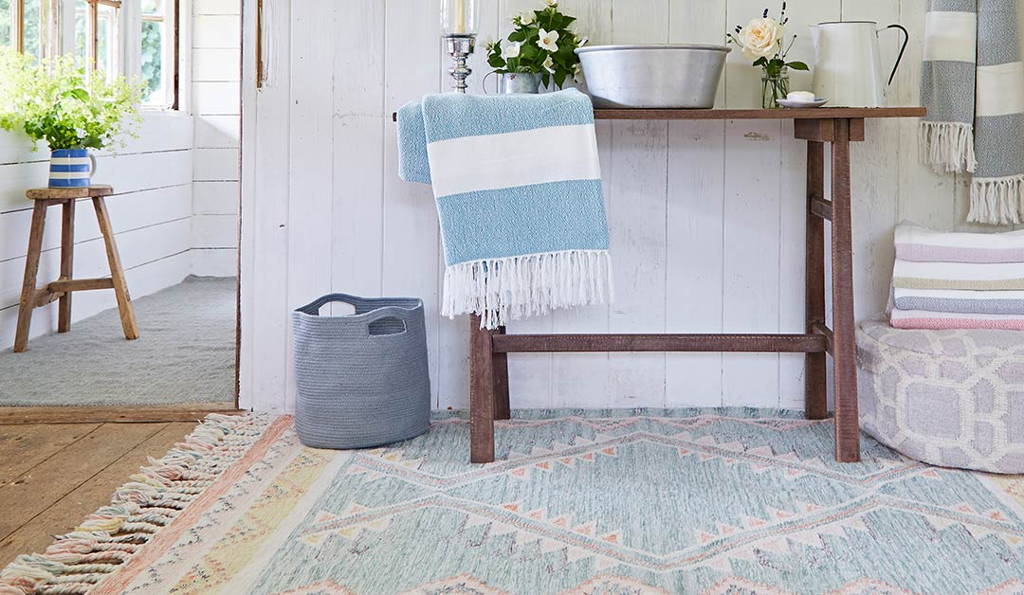 This one is for the dreamers. With faded blue tones and a traditional Andalucia-inspired pattern, the Andalucia Paloma Rug adds a calming feel to any space. There's something about those blues that makes us think of the sea on a sunny day, and it looks fantastic against the wooden floors of a summerhouse.
We love the timeless quality of the Andalucia Paloma Rug, and it's so durable it could easily add the feel of foreign shores to your summerhouse for generations. One of three Andalucia-inspired rugs, this one looks right at home anywhere.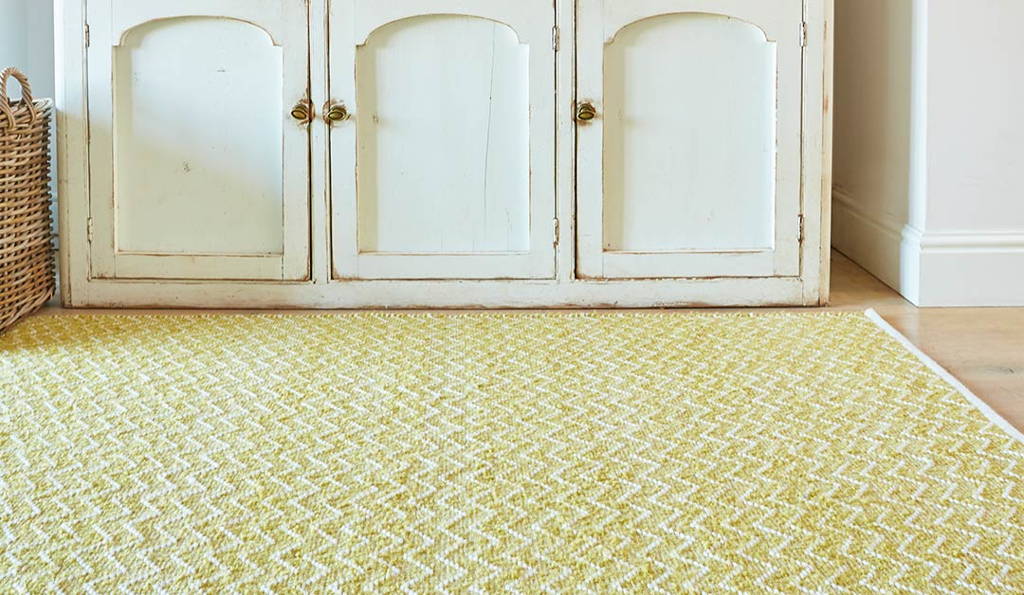 As warm as it is unique, the Gooseberry Chenille Rug will add a cosy dimension to your summerhouse. There's nothing like a dash of mustard for a pop of colour, and this rug adds warmth to even larger spaces. We can just picture sinking our feet into this homely rug while we doze in the peace and quiet of the summerhouse...bliss. The Gooseberry Chenille Rug has a traditional Scandinavian design that works perfectly with rustic wooden floors.
Again, our summerhouse rugs are designed to hold their own under pet claws and traipsing traffic. Our rugs are so soft underfoot that they're a pleasure to walk on, even when you've kicked off the flip flops and gone barefoot on a sunny day.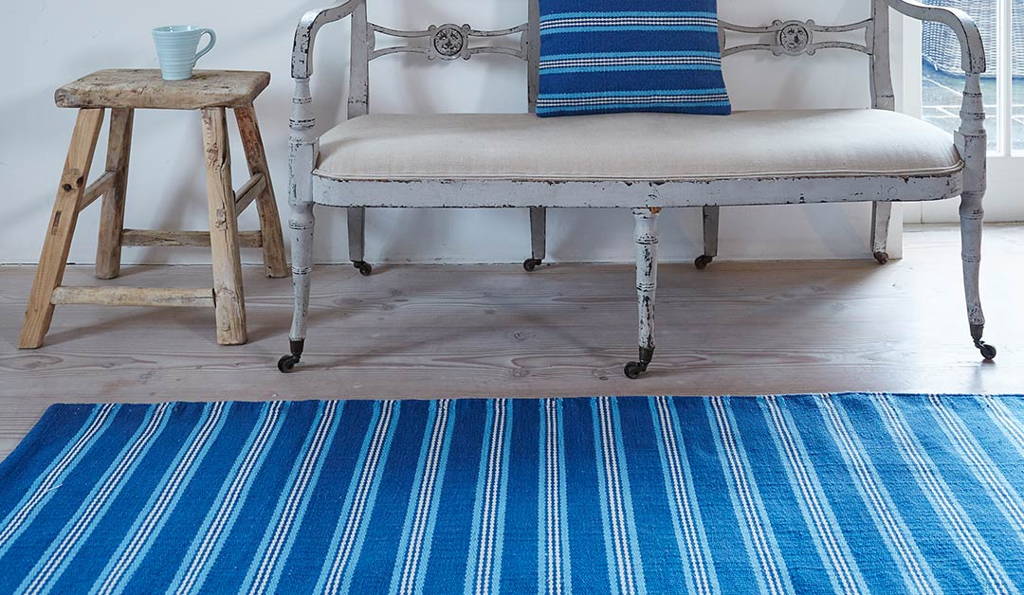 If your summerhouse is your creative space, the Santorini Henley Stripe Rug may just be the finishing touch. Bright and bold, this rug combines classic stripes with spectacularly vibrant blues.
Inspired by the blues of Greece's Santorini, this rug will add a taste of the Med to your relaxing space in the sun. Ok, so we may not be jetting off to the warm waters of the Mediterranean quite yet, but you can bring serious island vibes to your summerhouse anyway. The Santorini Henley Stripe Rug effortlessly energises any space, perfect for expressing yourself in your summerhouse sanctuary.
Gorgeous summerhouse cushions and throws
Once you've chosen the perfect rug for your summerhouse, how about bringing the look together with some of our summerhouse cushions and throws? Perfect for cosying up on cooler days and adding a touch of flair to your summerhouse or garden, this collection has a design to suit every style. There's nothing quite like curling up on a throw that feels like an old friend, and our collection of cushions and throws has been carefully curated with chillout time in mind.
Cushions not only add a little extra comfort, but they're also an easy way to complete the look you've carefully created. Our outdoor cushions are perfect for keeping in the summerhouse and using in the garden when you need them – and of course, they're beautiful too. Our outdoor cushions are machine washable, and you'll find the perfect pattern to complement your dreamy new rug.
It's time to choose your favourite…
With brighter days creeping closer, why not spruce up your summerhouse and get ready for the warmer weather? With a little luck, it won't be too long before you can share your favourite space with friends again. Until then, our range of rugs for summerhouse living will make rejuvenating your space more fun than ever. Just click below to shop the range.