When it comes to home décor, interior designers the world over agree that it's those all-important finishing touches that can really make the difference.
The kitchen remains the heart of any household, a busy living space which often reflects our busy lifestyles. A place where families convene and catchup and where both food and conversation are shared. 
Kitchen rugs are a brilliant way to make the heart of your home even more inviting. Whether you're looking to create that wow factor, or seeking something more understated but no less stylish, a well-chosen kitchen rug will elevate your kitchen to brand new heights! 
Prepare to be inspired...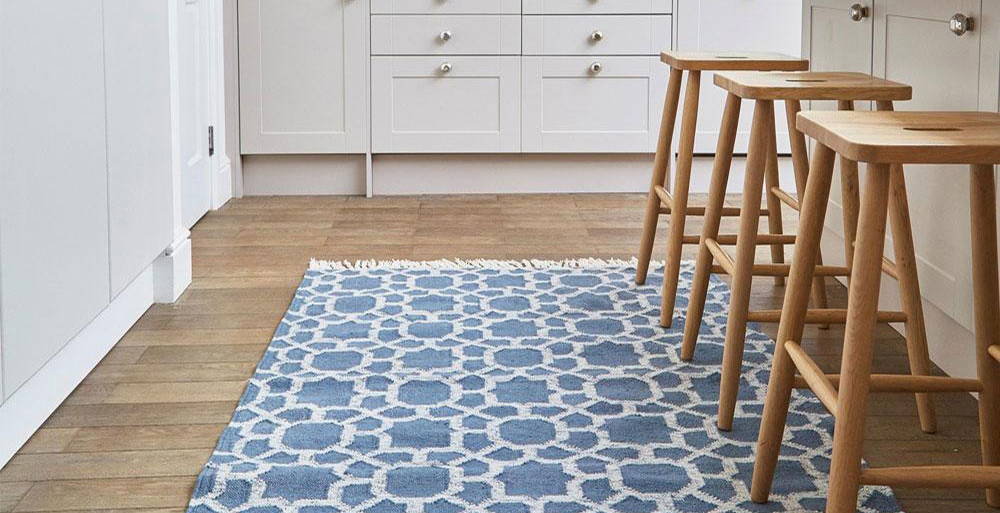 Finding the best rug for your kitchen
When purchasing a rug for your kitchen you need to balance the qualities of aesthetics and practicality. Cosy underfoot and soft as wool, our rugs have an eco-friendly secret that make them perfect for life in the kitchen. It may be hard to believe, but each Weaver Green rug has been made from up to 3000 recycled plastic bottles - that's 3000 plastic bottles that might otherwise have ended up in landfill or floating around our oceans. 
This amazing transformation sees tough plastic spun into delicate fibres with all the textual traits and inviting characteristics of a natural fleece. 
As well as their environmentally friendly credentials, these beautiful and pioneering rugs are also easy to clean, stain and water resistant, UV stable, and due to their superior resilience more than able to cope with the rigors of kitchen life. What's more, our rugs do not attract any unwelcome guests such as moths and dust mites making them the ideal choice for homes with pets and allergy sufferers.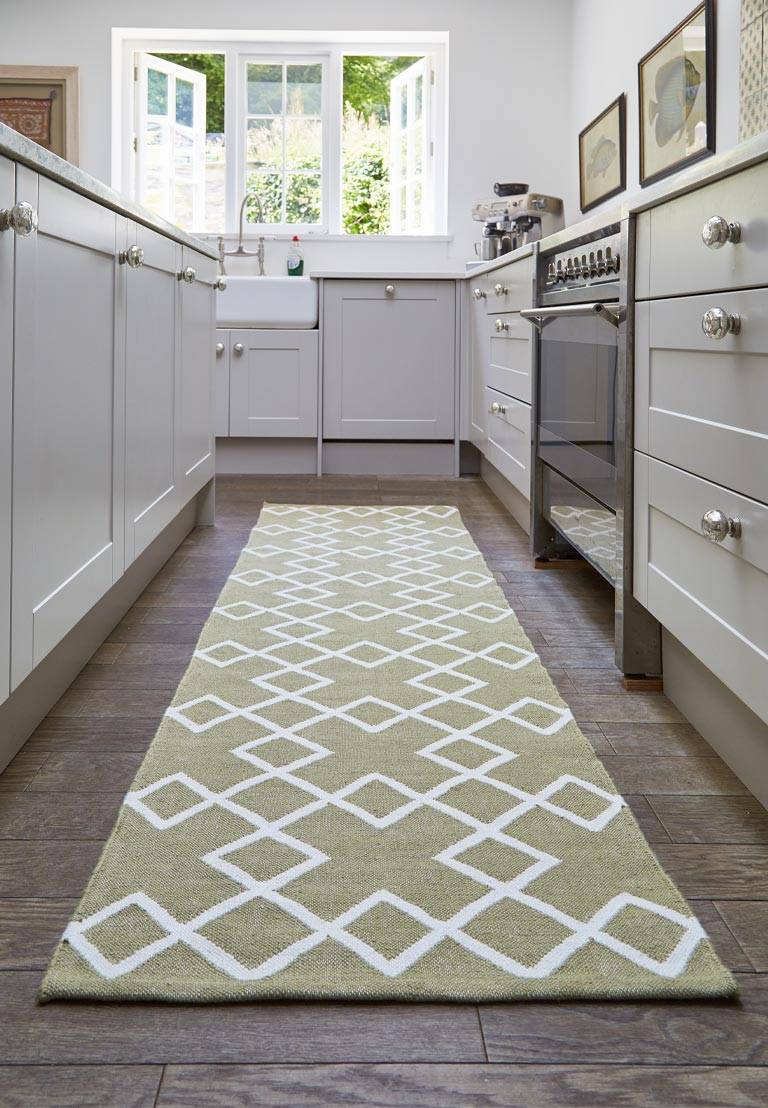 Key things to consider when choosing a kitchen rug
Kitchens tend to receive the most household traffic, so a hard-wearing pile is essential for rug longevity. With this in mind, our Juno, Kasbah, Nomad and Iris designs are best-suited to areas of high footfall and paw presence. Featuring dhurrie style flatweave, these robust rugs will stand the tests of time while also adding a layer of comfort to your kitchen floor. 
When it comes to measuring up, there are a few golden rules to follow. Firstly, make sure you allow for space around your borders, ideally between six inches and two feet, so as not to make the rug look cramped or poky. Visually, this applies more to the sides of your rug than it does to the ends, however, an even border always looks more attractive and helps to compliment rather than disguise the pre-existing floor surface. 
If your kitchen is open-plan and includes a dining area, and you're looking for a rug to cover the floorspace beneath your dining table, be certain to allow adequate space for the chairs (when in use) by ensuring your rug extends by at least 18-24 inches around your table to (a) prevent seated diners slipping off the rug's edge, and (b) to achieve the right kind of balance and layering.
The colours and pattern of your rug will also have a greater or lesser bearing on its overall impact on the kitchen. Complicated patterns and bolder hues can make for a more striking centrepiece (and also help disguise those stubborn, accidental spills), while the subtle use of stripes can help create the illusion of a wider or longer room depending on your intentions. Make sure you give due consideration towards your kitchen's existing décor to prevent a clash of colour or style. Colours from the warmer palette will compliment one of the rug's primary functions which is to provide an extra layer of floor insulation.
If you're dealing with a narrower floor space such as a galley kitchen or an area around a breakfast bar, a kitchen runner rug could be your ideal choice, perfectly suited for kitchen corridors and passageways while also helping to create a sense of space and providing comfort underfoot. 
Finally, make sure you sit your kitchen rug on an anti-slip rug underlay which will help anchor it into position while adding an extra cushion and allowing your rug to breathe.
Our five favourite kitchen rugs
We've picked out five of our best-selling rugs for the kitchen that are sure to pique your interest. Whether you're looking to add a pop of colour or a bold, geometric pattern to your kitchen, these gorgeous rugs offer a little something for everyone.
A stunning addition to your kitchen, this beautiful Persian-inspired rug combines washed out tones and a traditional kilim design.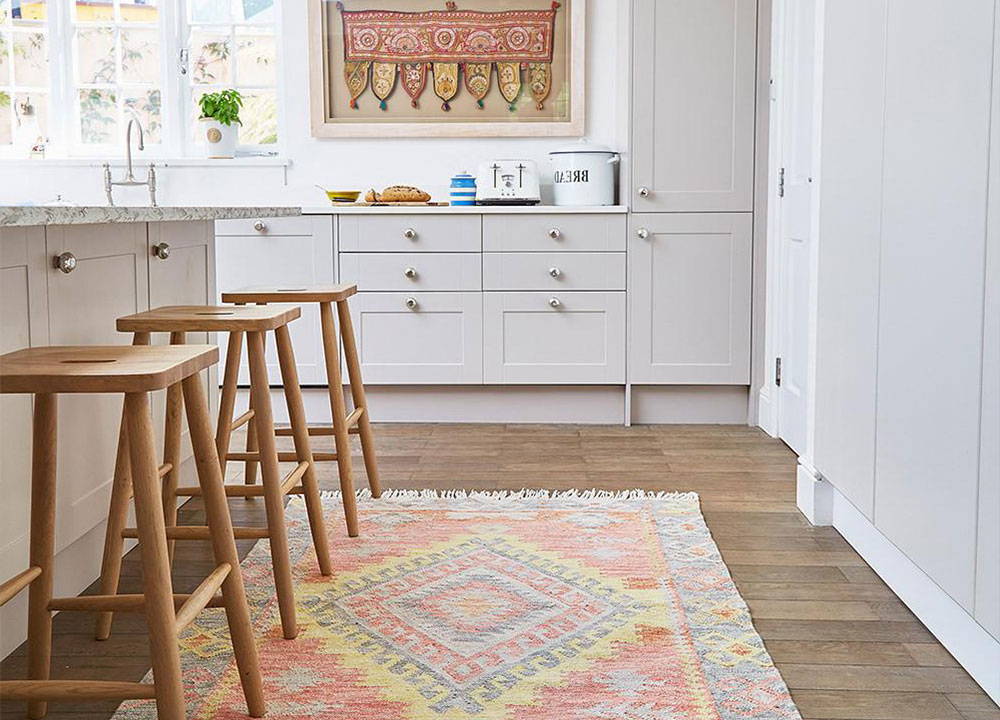 Transform your kitchen with a gorgeous Paloma rug, introducing faded blue tones and an enchanting Andalucian-inspired pattern that looks great against neutral or wooden floors.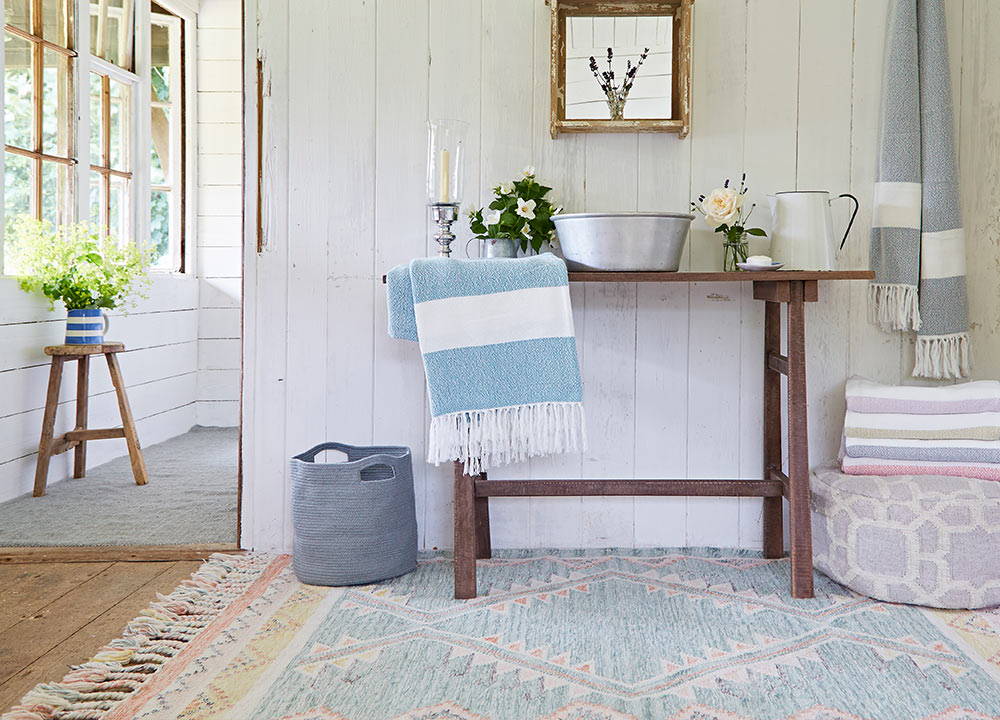 Invite deeper tones and bolder patterns into your kitchen with our striking Navy Juno Rug. Featuring a geometric design against our classic navy blue, it's a popular choice for that coastal theme.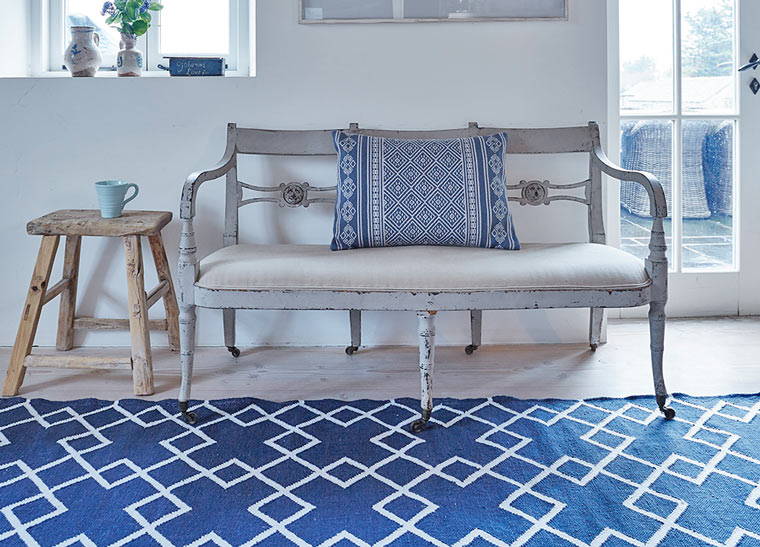 We love this Medina Tangier Rug. Inspired by traditional Moroccan design, this traditional flatwoven rug could be the finishing touch you've been searching for. Made from our toughest weave, it's ideally suited to the hustle and bustle of a busy kitchen.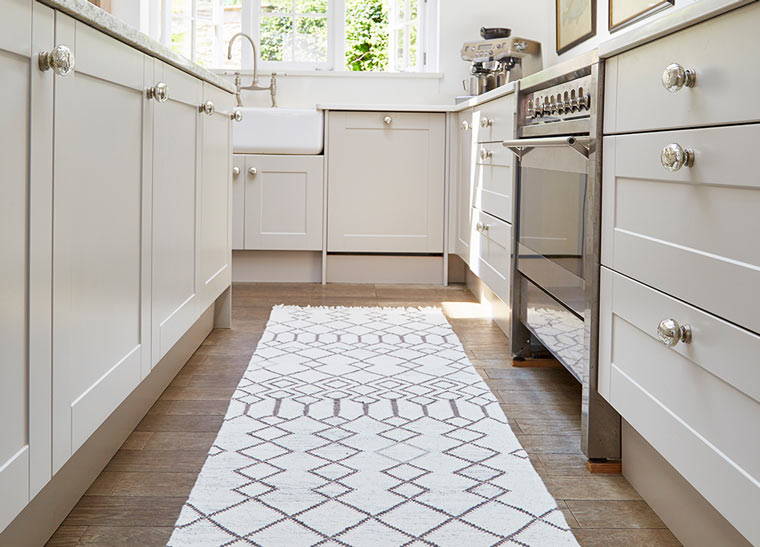 A great way to add a burst of colour against darker surfaces and neutral walls, this uplifting and warming yellow patterned rug will lift your morning mood and make the kitchen even more inviting.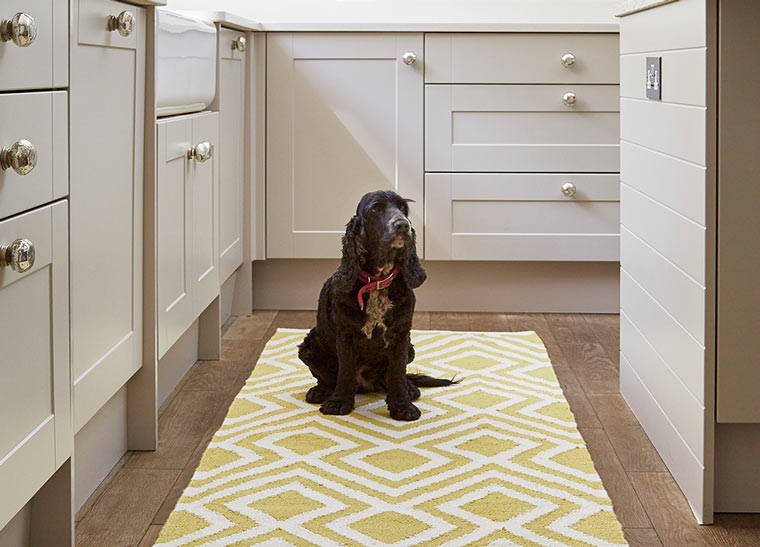 Discover these great designs and many more in our kitchen rugs collection. Tough and durable, soft as wool, and made from 100% recycled plastic bottles, our beautiful weaves will transform your living space without costing the earth.