At this time of year, your outside space is just as important as the rest of your home. If yours could do with a little va va voom, we say step outside and get those outdoor décor ideas flowing. We have to admit, Weaver Green products are brilliant for al fresco living. Durable, water-resistant and easy to wash, our products also look good enough to turn heads.
Upgrading your outdoor décor doesn't have to mean splashing out, and it's easy to do. Simply adding a few new focal points could give your garden a whole new lease of life – just in time for those late summer gatherings with family and friends.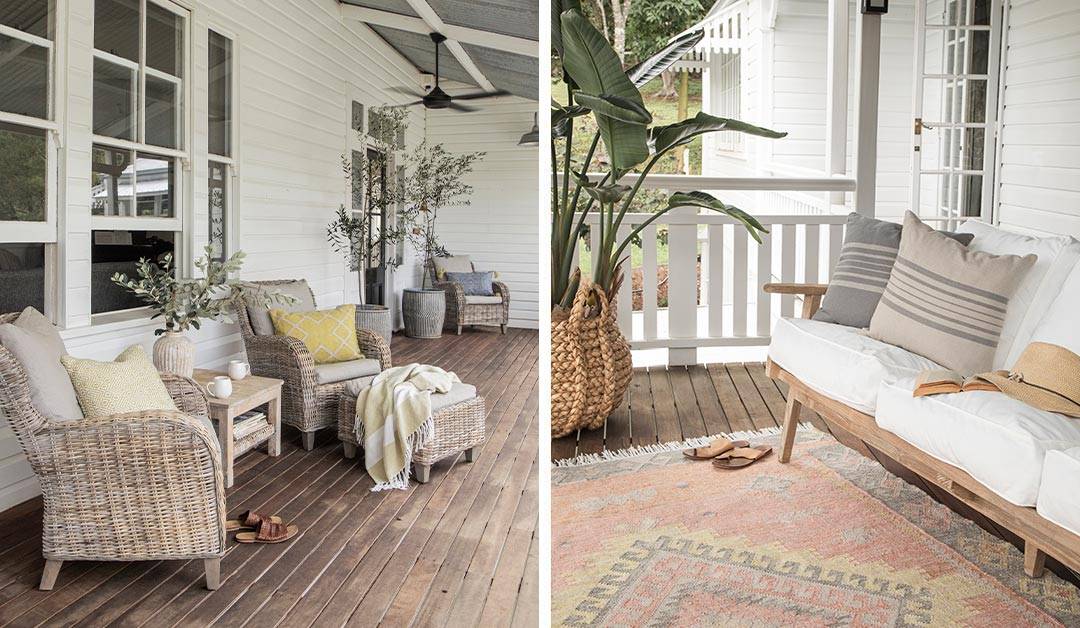 There's only one thing better than sinking into your favourite chair with a soft rug to meet your feet – and that's enjoying the softness of your favourite rug under a big blue sky. Our selection of outdoor rugs are perfect for those of you who are happiest outside, and they're hardy enough to survive wet spells without a problem.
If you've worked hard to achieve an outdoor decor to be proud of, a beautiful rug can be the finishing touch. Spread your rug out for a family picnic on the lawn or pop the kids on it for a naptime in the fresh air.
The enchanting Nomad Tarifa Rug has a classic Kilim design and makes a spectacular statement in an outside space. With earthy colours that nod to exotic shores, it's made using our toughest weave. If you're after an outdoor rug with a playful personality, the Regimental Stripe Rug adds a splash of colour wherever it's needed. Bold colours and a striped design make this a real focal point, perfect for setting off a rustic space in need of a statement piece. 
The deep colours of the Nomad Sultan Rug beckon guests to grab a glass of wine, sit down and relax. As soft as it is durable, this captivating Kilim rug makes just the spot for a long overdue catch up with a friend. An outdoor rug can transform your outside space, and they're as easy on the eye as they are practical.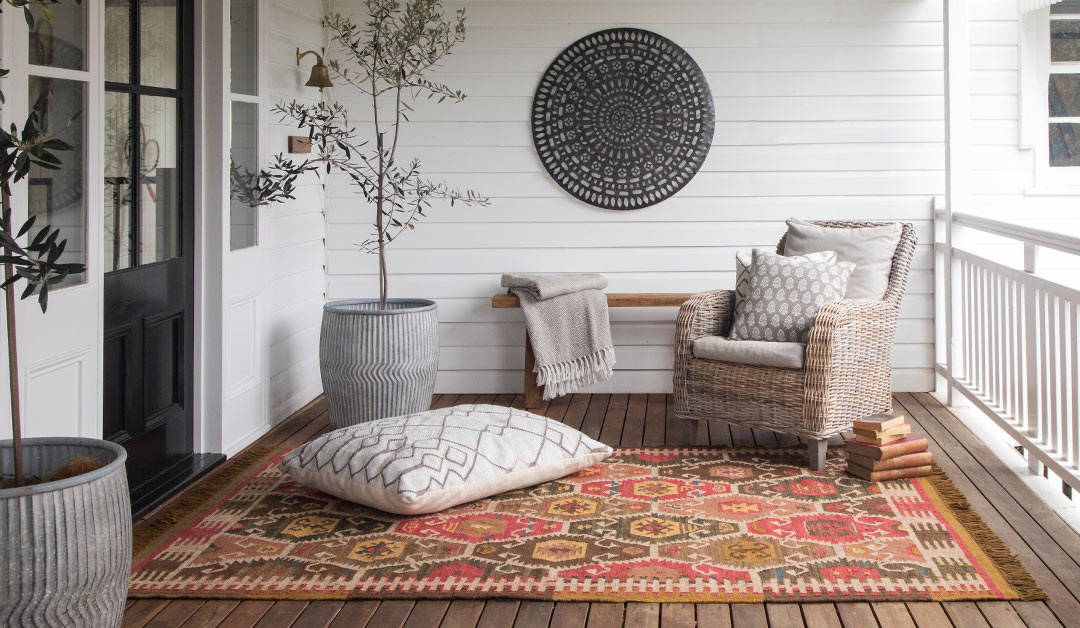 Adding outdoor cushions is an easy way to breathe new life into your garden furniture. This range is all about feeling as fantastic outdoors as you do in your home. It's amazing how a scattering of well-picked cushions can transform the appearance of your trusty garden set – and you'll feel more comfortable than ever. Pick your favourite design, pop it behind your back and forget the world for a while.
Our outdoor cushions are made completely from recycled plastic bottles, but we have to say they feel just like natural wool, cotton or jute. If you get carried away and spill something on your cushion cover, simply remove it for a spin in the machine at 40 degrees, then leave it to air dry and it'll be as good as new.
Our bohemian cushions add instant chic to any setting. Position them on your Weaver Green blanket for a lazy picnic or show them off on your garden swing seat. The boho cushions are for those of you who love to stand out from the crowd. From the rich colours of the Nomad designs to the playful pastels of the Andalucía-inspired choices, these quirky choices look beautiful and always get the conversation started.
Don't be afraid to keep things low key. If you've gone to town with the rest of your garden accessories, it's a good idea to keep your cushions quietly comfortable so they blend in with the rest of your garden décor. We have a selection of simple cushions, including teal, coral, chinchilla and navy choices.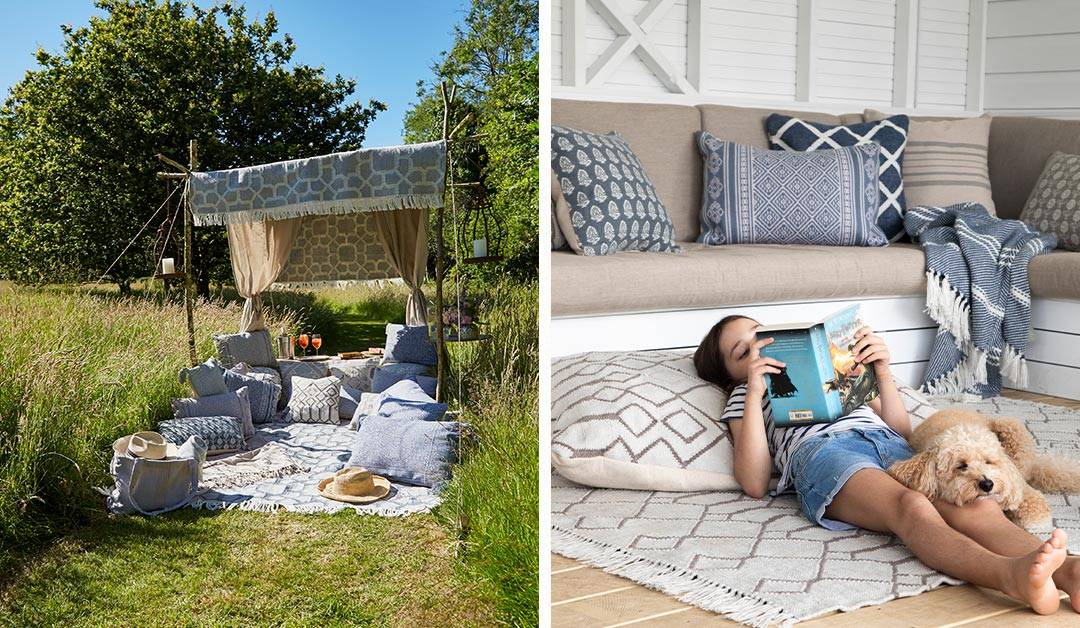 Outdoor accessories
There's nothing quite like making your outside space your own. If you spend most of your downtime outside, why shouldn't your space reflect who you are and what you love? Be prepared to get creative with your outdoor accessories, as this is the perfect opportunity to try out new looks and create a space with plenty of style.
Why not start at ground level and work your way up? Our floor cushions are fabulous for entertaining friends, and they add a glamorous twist to an ordinary space. When the guests are long gone and your garden's your own again, you can use your floor cushions for family meals, picnics and those sneaky naps in the sun.
If you add one accessory to your garden this year, it should probably be a trusty outdoor blanket the whole family will love. They may be made from recycled plastic bottles, but our beautiful blankets feel as soft as wool to touch. Drape them over garden chairs, spread out a picnic on them or bundle sleepy children up to carry them inside. Our blankets are available in a wide range of colours and designs, and each one has its own unique look.
Creating the perfect outside space is all about the detail. That means smaller accessories such as baskets and outdoor table linen go a long way to overhauling any garden. Have a think about the way you enjoy your outdoor space and pick some key products that will work for you.
Completing your outdoor decor
Don't forget about the smaller accessories to complete your outdoor décor. Adding a lantern or tealight holder can help keep your garden looking magical long after the sun sets. If you want to stick with the eco-friendly theme of your Weaver Green products, place a few solar lights around your borders to cast a soft glow after a sunny day.
For an extra touch of luxury, it might be time to treat yourself to an egg chair. If you've been promising yourself a treat to enjoy your new-look garden, we say embrace the soothing power of the softly swinging garden seat.
Our outdoor products don't just look great, but they're doing their bit for the planet too. Each product is made from recycled plastic bottles cleared from waterways and rivers, so your garden décor will look as good as you feel for doing your bit.